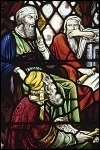 Bible Translation
This 3-week course discusses important and oft-debated Bible translation questions.
3 Session Bible Study
The following 3-session course will help you and your group think about important and hotly debated Bible translation questions like: Is the Bible still accurate and relevant? Do we need another Bible translation? Should we be skeptical about new Bible translations?
Week One
We Really Do Need Another Bible Translation
As good as many modern versions are, they often do not allow us to hear what the Holy Spirit actually said.
Week Two
Bible Translation Under Fire
Testing the merits of the new gender-sensitive TNIV.
Week Three
The Undiminished Accuracy of Scripture
Why you can still set your life by it.
Bible Translation