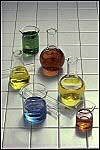 Bioethics and Compassion
This study plan will help you think about bioethics from a biblical perspective.
13 Session Bible Study
In this 13-session quarterly plan, we look at how Christians should view the ethical debate that swirls around scientific discoveries that both extend and take life. This innovative resource will help you think about bioethical issues from a Christian perspective, and how we can be wise and compassionate. Use these handouts for personal study, a Sunday school class, or a small group.
Session One
The Value of Human Life
What is human life really worth?
Psalm 8; Ecclesiastes 2:1–11; Matthew 10:28–31; Mark 14:3–9; Luke 10:38–42; Romans 8:31–32; Philippians 3:7–10

How much is life worth? Why is every life precious? How does an ethic of love work in the real world? We'll explore these questions in this study.
Session Two
Care for Children with Special Needs
How can we offer practical help for children and their parents?
2 Samuel 4:4; 9:1–12; Matthew 9:18–38; Mark 2:1–12; John 9; Romans 11:33–36

How did King David model care for his friend's disabled son? How did Jesus respond to hurting people and their families? How can we best demonstrate love and support to the parents of a child with special needs?
Session Three
A Christian View of the Disabled
Disabilities among us present challenges—often, to our attitudes, ambitions, and Christian faith.
2 Samuel 9:3–11; Job 19:21–27; Luke 7:3–10, 9:37–43a; Philippians 2:1–4, 3:7–14

What perspective can biblically grounded faith bring into bioethical dilemmas, both to parents and to those who stand by them? What can the local church do to strengthen support for children with disabilities?
Session Four
Life-and-Death Decisions
With medical technology extending life indefinitely,is it ever right to pull the plug?
Psalm 90:10–12; Psalm 139:15–16; Ecclesiastes 3:1–8; Luke 6:6–11; Philippians 1:18b–26; James 5:14–16

What issues are involved in life-and-death medical decisions? How do we decide if someone should live or die?
Session Five
Pulling the Plug
When is it okay to let go of the terminally ill?
Genesis 2:7, 3:19; Exodus 20:13; Job 1:20–22; Daniel 3:13–18;Mark 12:30–31; Acts 7:54–60, 17:24–28; Revelation 21:3–4

At first glance, the Christian's high view of life may indicate that any and all steps should be taken to keep a terminally ill person alive as long as possible. But is this really the most loving, humane, and godly thing to do?
Session Six
National Health Care: A Good Idea?
The Judeo-Christian teaching that human life is valuable drives us to consider health care that may not be cost effective.
Genesis 20:1–13; 2 Chronicles 16:1–14; Ecclesiastes 3:1–2; Matthew 4:1–4; Luke 4:1–4, 8:40–42, 51–55, 9:24, 12:25; Romans 14:8; 2 Timothy 3:10–12, 4:6–8

Have our decisions concerning life and death become so secularized that we are blindly worshiping at the altar of physical existence where the length of life is a higher priority than its quality?
Session Seven
Souls on Ice
Are in vitro fertility treatments ethical?
Genesis 1:26–28; 9:1–7; 25:20–21; Psalm 127:4–5; 139:15–16; Matthew 18:14; Mark 9:36–37

In vitro fertilization is a costly fertility treatment, but it has enabled many infertile couples to conceive. But as John Van Regenmorter cautions in a CHRISTIANITY TODAY article, many IVF patients leave behind excess embryos.
Session Eight
Moral Battle for Stem Cells
Isaiah 44:24

Christians and scientists alike have taken positions on both sides of this issue of embryonic stem-cell research.In this study, we will look at the issue and several biblical principles that will guide our discussion.
Session Nine
How We're Buying into Stem Cell Therapy Research
Why shouldn't Christians promote and participate in studies that may help cure terminal diseases and paralyzing injuries?
Genesis 1:26-28; 4:8-16; 9:1-7. Acts 15:1-35. Matthew 5:45b; 6:33; 7:12; 18:14; 22:37-40

The U.S. government continues to debate whether to pursue stem cell therapy research. What's our response?
Session Ten
Genetic Testing: How Far Is Too Far?
Why shouldn't we use our embryos and genes to make our lives better? The world awaits a Christian answer.
Genesis 1:28; 2:15; 11:1-9; Matthew 9:18-34; 1 Corinthians 10:23-24

This study explores recent scientific advances and helps Christians think biblically about the proper and improper ways they might be applied.
Session Eleven
Can We Clone God's Image?
Today's advances in biomedicine give parents unprecedented power to select and shape their children. But should they take advantage of it?
Genesis 1:24-2:3

The Bible's wisdom can guide Christians in answering questions upon which, in Leon Kass's words, "the human future is at stake."
Session Twelve
What Are We Eating?
How is genetically modified food affecting our world—and our souls?
Genesis 1:1–2:3; Leviticus 19:1–12; Psalm 104; Luke 22:7–23

In the recent BOOKS & CULTURE article "Food™," author Eric Miller observes that "we've gone from raising crops to worrying about them." In this Bible study we look at the biblical roots of a Christian approach to food.
Session Thirteen
A Christian View of the Death Penalty
Christians need to think through this life-and-death issue.
Genesis 9:5–6; Exodus 20:13; 21:12–17; Matthew 5:17–26, 38–48; 22:37–40; John 8:3–11; Romans 12:17–21; Philemon 8–20

How can biblical guidelines on the death penalty ensure justice and fairness? What should be the church's position on capital punishment?
Total number of pages - 155
Bioethics and Compassion