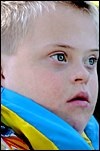 Care for Children with Special Needs
How can we offer practical help for children and their parents?
Single Session Bible Study
Overview
Jesus cared for the disabled wherever he went, and he expects us to model his compassion. The first step in developing an effective ministry for children with special needs and their parents is to communicate with the parents about their needs, desires, and practical ways the church can support them. In his article for LEADERSHIP journal, Steve Harris, the father of a child with spina bifida, has outlined practical ideas to help those who face the difficulty of raising a handicapped child.
How can the church develop strategic and effective ministry for children with handicaps and their parents? How did King David model care for his friend's disabled son? How did Jesus respond to hurting people and their families? How can we best demonstrate love and support to the parents of a child with special needs?
Table of Contents
SCRIPTURE: 2 Samuel 4:4; 9:1–12; Matthew 9:18–38; Mark 2:1–12; John 9; Romans 11:33–36
LEADER'S GUIDE
• Identify the Current Issue
• Discover the Eternal Principles
–Teaching point one: God has a plan to display his work in the lives of children with disabilities.
–Teaching point two: We demonstrate love to the parents of a child with special needs when we help care for their child.
–Teaching point three: Help the parents of children with special needs to "carry the mat" of their child to Jesus.
–Teaching point four: Jesus calls us to follow his pattern and care for the needs of the harassed and helpless people on Earth.
• Apply Your Findings
ARTICLE FROM LEADERSHIP
• What Parents of a Handicapped Baby Need Most, by Steve Harris (Spring 1985, 2 printed pages)
Total number of pages – 10
Care for Children with Special Needs