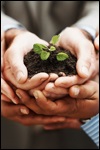 Caring for Our Community
Why we should give back to the places that help shape us.
Single Session Bible Study
Overview
In his letter to the Galatian Christians, the apostle Paul wrote, "Therefore, as we have opportunity, let us do good to all people, especially to those who belong to the family of believers" (6:10). This instruction has sometimes been reduced to the proverb "Charity begins at home." How do we balance our responsibilities toward the communities in which we live alongside our responsibility to nurture those within the community of faith? How do we help those in our neighborhood while also following our mandate to bring the gospel to the ends of the earth?
Table of Contents
SCRIPTURE: Genesis 1:26–28; 12:1–3; Deuteronomy 28:1–14; Matthew 5:13–16; Galatians 6
LEADER'S GUIDE
• Identify the Current Issue
• Discover the Eternal Principles
–Teaching point one: Our lives are rooted in community because of God's creational design.
–Teaching point two: Because of sin in our world, Christians are to live as people "on the way" to God's kingdom.
–Teaching point three: One of the most important dimensions of Christian living is to make a difference in one's neighborhood.
• Apply Your Findings
ARTICLE FROM CHRISTIANITY TODAY
• Being Here, by Charles Colson with Anne Morse (August 2003, 10 printed pages)
Total number of pages – 10
Caring for Our Community