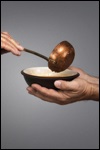 Christians and Social Justice
Exploring biblical perspectives on poverty and sex trafficking
In this three-session course from Listen Up TV, your group will discuss what a Christian's repsonse to social justice should be. Included are three 23-minute videos that cover urban poverty, sex trafficking, and microloans.
Session 1
Sharing Life Together with the Poor
What if community, not money, was the best answer to poverty?
Psalm 113; Matthew 25:31-46; Acts 2:42-47
Video length: 23 minutes
Session 2
Kids for Sale
A Christian response to modern slavery.
Psalm 10
Video length: 23 minutes
Session 3
Practical Solutions to World Poverty
Microloans to the poorest of the poor move beyond aid to development.
Deuteronomy 15:1-11
Video length: 23 minutes
Total number of pages: 19
Christians and Social Justice
SmallGroups.com offers a diverse set of adaptable training tools for small group models that can be customized to a church's unique needs.
14-Day Free Trial
Get complete access free for 14 days.
Featured Training Tools:

Connect People into Small Groups
A la carte price:
Theological Discussions for Everyone
A la carte price: