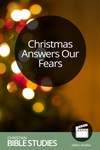 Christmas Answers Our Fears
Help your group understand Christmas in a new way.
In order to talk about Christmas peace, we must first talk about fear. And while we're all born into this world with fears, we can choose where they drive us. Let your fears drive you to Christ. As we trust him, he answers our concerns. In these four videos, David Daniels will help your group turn over your fears to God and experience peace.
Session 1
Promised Peace
What do we do with those debilitating fears that grip our hearts?
Luke 1; 2:1-14
Video length: 8:54
Session 2
Why We Fear
What happens when we fail to reflect God's glory as we are created to do?
Romans 3:9-26
Video length: 9:41
Session 3
Fear-Driven to Christ
Where will our fears take us?
Matthew 11:25-30; 2 Peter 1
Video length: 10:37
Session 4
Faith Conquers Fear
So how do we handle those fears that remain?
Hebrews 11:32-12:3; 18-29
Video length: 10:08
Total number of pages - 20
Christmas Answers Our Fears
SmallGroups.com offers a diverse set of adaptable training tools for small group models that can be customized to a church's unique needs.
14-Day Free Trial
Get complete access free for 14 days.
Featured Training Tools:

Connect People into Small Groups
Theological Discussions for Everyone