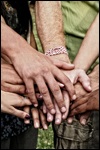 Church Unity Myths
We should question some refrains of unity in diversity.
Single Session Bible Study
Overview
What draws believers together? What drives them apart? James Edwards contends that unity is not based on sentiment, and that many attempts to bring unity to the church are misplaced experiments in sociology. In the book of Acts, Edwards finds a better basis for bringing believers together.
Table of Contents
LEADER'S GUIDE
• Identify the Current Issue
• Discover the Eternal Principles
–Teaching point one: Unity is based on passion, but not on feelings.
–Teaching point two: Unity does not encompass diverse beliefs, but rather diverse people.
–Teaching point three: Unity comes from outside ourselves.
• Apply Your Findings
HANDOUT FOR FURTHER STUDY
ARTICLE FROM CHRISTIANITY TODAY
• Unity Not of Our Making, by James R. Edwards (2001)
Total number of pages – 12
Church Unity Myths