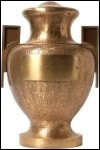 Cremation or Burial: What Does the Bible Say?
Is it unscriptural for a Christian to be cremated?
Single Session Bible Study
Overview
One of Christianity Today's executive editors, Timothy George, considers grave matters in the Good Question column. Whether motivated by economics, a concern for land use, or the loss of community ties, those who chose cremation over burial made up 25.5 percent of all deceased in 2000. And with the number of cremations expected to rise to 40 percent of all deaths by 2010, it's likely that you know a friend or family member with plans to be cremated after death. Scriptural guidelines regarding burial and cremation, which we'll consider in this study, may soon come in handy.
Table of Contents
LEADER'S GUIDE
• Identify the Current Issue
• Discover the Eternal Principles
–Teaching point one: Christian tradition favors burial, but the Bible does not condemn cremation.
–Teaching point two: Christian funerals affirm God's promise of bodily resurrection.
• Apply Your Findings
HANDOUT FOR FURTHER STUDY
ARTICLE FROM CHRISTIANITY TODAY
• Cremation Confusion, by Timothy George (May 21, 2002, p. 66)
Total number of pages – 9
Cremation or Burial: What Does the Bible Say?