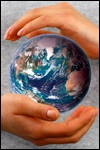 Culture: Love It, Leave It, or Transform It
Richard Niebuhr's Christ and Culture is 50 years old—and still has something wise to say to evangelicals.
Single Session Bible Study
Overview
Our culture is becoming less and less "Christian." So what does that mean for us? What goodness does our culture reflect? What evil or darkness permeates it? How is the gospel good news for the darkness of our culture? How might the gospel be communicated or embodied using the cultural forms of the advertising and media worlds?
LEADER'S GUIDE
• Identify the Current Issue
• Discover the Eternal Principles
–Teaching point one: God loves the world in spite of its evil.
–Teaching point two: Sin and evil are a reality in the world, but children of light do not have to walk in this darkness.
–Teaching point three: We must obey God first, and then human authorities.
–Teaching point four: Christians are called to be salt and light in the world (culture).
–Teaching point five: Christians are to spread the gospel in the world (culture).
• Apply Your Findings
HANDOUT FOR FURTHER STUDY
ARTICLE FROM CHRISTIANITY TODAY
• In the World, but..., by John G. Stackhouse Jr. (April 22, 2002, p. 80)
Total number of pages – 12
Culture: Love It, Leave It, or Transform It