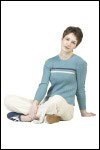 Dark Night of the Soul
Finding hope for the downcast soul.
Single Session Bible Study
Overview
When doubt, confusion, or suffering threaten to drag us into the black hole of despair, the saving hand of hope can seem elusive. Even despair, however, cannot keep us from the fierce and faithful protector of our soul. It is during these "dark nights of the soul" that we begin to understand that true faith is hope demonstrated regardless of circumstances.
Why does God allow "dark nights of the soul"? How did God restore Elijah's hope when he hid in loneliness and despair? How did God the Father strengthen Jesus in his anguish at Gethsemane? What happened when Habakkuk questioned God? The purpose of this study is to learn to embrace the dark nights of the soul.
Table of Contents
SCRIPTURE: 1 Kings 19:1–18; Psalm 42; Habakkuk 1:1–2:1; 3:16–19; Mark 14:32–42
LEADER'S GUIDE
• Identify the Current Issue
• Discover the Eternal Principles
–Teaching point one: God meets us in our desert place.
–Teaching point two: Times of crisis help us to recognize our desperate need for God.
–Teaching point three: In our anguish, we cry out to our Abba Father, Daddy God.
–Teaching point four: God meets us in our dark places, and though we will never fully understand his ways, the very act of wrestling with God draws us nearer to him.
• Apply Your Findings
• Recommended Resources
ARTICLE FROM CHRISTIANITY TODAY
• "Embracing Dark Nights of the Soul" by Sally Morgenthaler
(GiftedforLeadership.com)
Total number of pages – 10
Dark Night of the Soul