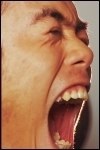 Demon Possession: An Unholy Obsession?
Many Christians say they are in need of deliverance, but some may be giving demons more than their due.
Single Session Bible Study
Overview
Interest in demons and demonology is on the rise, but are their presence and activity real in all cases? How should Christians deal with this phenomenon? In this article,Christianity Today assistant editor Agnieszka Tennant asks the tough questions. And in this Bible study, we turn to Scripture for guidance on living at the place where the earthly and the spiritual meet.
Table of Contents
LEADER'S GUIDE
• Identify the Current Issue
• Discover the Eternal Principles
–Teaching point one: Demons can inhabit human beings.
–Teaching point two: Demons seek to further their own ends.
–Teaching point three: Demons obeyed Jesus, but will they obey us?
• Apply Your Findings
HANDOUT FOR FURTHER STUDY
ARTICLES FROM CHRISTIANITY TODAY
• In Need of Deliverance by Agnieszka Tennant and Exorcism 101 by Clinton E. Arnold (September 3, 2001)
Total number of pages – 23
Demon Possession: An Unholy Obsession?