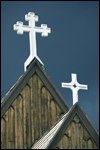 Easter Realities: Church Bundle
Gather your entire church to gain new insights from this familiar story.
4 Session Bible Study
Note: The different formats for each piece of the campaign are bundled as follows: one PDF for all preaching material, one PDF for Bible study material, one Powerpoint presentation for all four weeks, and one Microsoft Word document for the bulletin insert. These files are bundled as a ZIP file for your convenience.
Or if you'd like to order just the Bible study, click here.
This Church Discipleship Campaign will help your entire church prepare for the most important event in the Christian calendar. It begins with Jesus' trial, faces his suffering, focuses on the purpose of the Cross, and celebrates the glory of the Resurrection.
Week One
The Greatest Trial Ever Held
Jesus died for all sinners, even Pilate
Matthew 27:11-26
When we think of Pontius Pilate, certain words come to mind: harsh, brutal, indecisive, cowardly. Awestruck maybe, too, when it came to Jesus. And Jesus came to save sinners, like Pilate. Like us. This study will explore the trial of Jesus and its terrible outcome, which God uses as good news for sinners like us.
Week Two
A Crown of Thorns for the King of Kings
Jesus suffered to give sinners salvation and eternal life.
Matthew 27:27-31; Isaiah 53
It's Easter time, but do you remember Christmas? The joyous story starts on the first page of the New Testament, with an angel telling Joseph that Mary will "give birth to a son, and you are to give him the name Jesus, because he will save his people from their sins" (Matt. 1:21). Because he will save his people from their sins. How this would work was predicted by Isaiah eight centuries before the first Christmas. This study explores the fulfillment of Bible prophecy in the death of Christ.
Week Three
On the Cross
Everything changed forever in the death of Christ.
Matthew 27:32-61
Have you ever wondered why on earth Good Friday was ever called "good"? Maybe Sad Friday or Horrific Friday would be more apropos. This study will recount all the good of the events of Good Friday.
Week Four
What If It's True?
If we choose to believe in the Resurrection, we have everything to gain.
Luke 24:1-35
Usually we don't like pie-in-the-sky "what ifs." We want the facts. We want reality. But what if the "what ifs" and the reality are one and the same? This Bible study is a call to faith in the crucified and risen Savior.
Easter Realities: Church Bundle