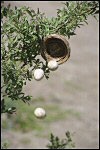 Empty Nest–Full Life
Find God's purpose in every season of life.
Single Session Bible Study
Overview
For many, the empty nest is a time of grief. The sense of loss is multifaceted. Not only is there the absence of a beloved family member, but also a loss of purpose. Transitions are never easy, especially when we have no choice in the change. This study will show that while transitions such as an empty nest may be difficult, they need not be devastating. All of life is a transition to something. Rather than feeling regret over what is left behind, how can we learn to appreciate and look forward to what God is doing at each new stage?
Table of Contents
SCRIPTURE: Genesis 2:20–24; Psalm 127; Isaiah 43:18–19; John 15:1–17; Philippians 3:12–14
LEADER'S GUIDE
• Identify the Current Issue
• Discover the Eternal Principles
—Teaching point one: God's plans are perfect.
—Teaching point two: God desires fruitfulness from us at every stage of life.
—Teaching point three: Fruitfulness, contentment, and fulfillment—whatever stage of life we are in—come out of our relationship to Christ.
• Apply Your Findings
• Additional Resources
ARTICLE FROM VIRTUE magazine
• Celebrating the Empty Nest, by Carol Kuykendall (3 printed pages)
Total number of pages—12
Empty Nest–Full Life
SmallGroups.com offers a diverse set of adaptable training tools for small group models that can be customized to a church's unique needs.
14-Day Free Trial
Get complete access free for 14 days.
Featured Training Tools:

Connect People into Small Groups
A la carte price:
Theological Discussions for Everyone
A la carte price: