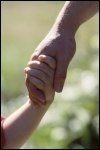 Fear Factors in Parenting
What to do with parenting fears.
Single Session Bible Study
Overview
You go through nine months of preparation, but nothing really prepares you for the moment an infant is wrapped in pink or blue and placed in your arms. And then it hits you—you're a parent. It's not like babysitting or being in charge of your younger siblings. This is different. No one is coming to relieve you. This child is yours for keeps. Is it any wonder we inwardly scream, What am I going to do now?
Sheila Wray Gregoire says, "Some degree of fear is natural in parents. We love our kids so much that the thought of anything bad happening to them sends us into a panic. Yet, if we're not careful, this caution can become oppressive. When we let fear dominate our parenting, we can actually shield our kids from the very things they need to be dealing with." This study is about dealing with our fears.
Table of Contents
SCRIPTURE: 1 Samuel 17:37; Proverbs 22:6; Isaiah 41:10; Matthew 7:11; James 1:5; 1 Peter 5:7
LEADER'S GUIDE
• Identify the Current Issue
• Discover the Eternal Principles
—Teaching point one: We don't parent alone.
—Teaching point two: God enables us to do what he requires.
—Teaching point three: Pray without ceasing.
• Apply Your Findings
• Additional Resources
ARTICLE FROM CHRISTIAN PARENTING TODAY
• Parenting Without Fear, by Sheila Wray Gregoire (July/August 2000, 9 printed pages)
Total number of pages—
Fear Factors in Parenting