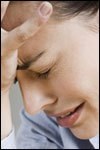 Fear's Close Associates
Anxiety, discouragement, worry, and panic can result from fear.
Single Session Bible Study
Overview
Fear perpetuates other problems in our lives. If it runs amok, it can move from being a mild annoyance to outright panic, which paralyzes us. Whether you experience these emotions or lead people who do, this study can help you work through the source and symptoms of fear from a biblical perspective.
Table of Contents
SCRIPTURE: Deuteronomy 20:3–4; Psalm 94:18–19; Proverbs 12:25; Matthew 6:25–34; Philippians 4:6–7
LEADER'S GUIDE
• Identify the Current Issue
• Discover the Eternal Principles
—Teaching point one: Anxiety is a close friend to fear.
—Teaching point two: Worry is another emotion that is closely associated with fear.
—Teaching point three: Fear's favorite friend is panic.
• Apply Your Findings
Total number of pages—
Fear's Close Associates