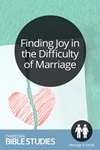 Finding Joy in the Difficulty of Marriage
This six-session study can help you find joy in a difficult marriage.
6 Session Bible Study
We all enter marriage with great expectations. Most of us are challenged when the reality hits our imagination. However, for some, the disappointment is acute. Their marriage is not living up to their hopes and can only be described as difficult. If you are one of those persons, this six-session course is for you.
Session 1
Seeking God Together
Turn to God as a couple.
Session 2
Getting Through the Rough Spots
Gain a new perspective on difficulties.
Session 3
Joyfully Ever After
Learn to enjoy your marriage.
Session 4
Try, Try, Again
How to persevere in your marriage
Session 5
Realistic Marriage
Expectations can make or break a marriage.
Session 6
God's Workshop
Marriage can be a way to become more like Christ.
Total number of pages - 73
Finding Joy in the Difficulty of Marriage