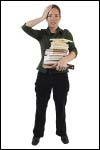 From Dawn to Dusk
Discover God's rest in a busy life.
Single Session Bible Study
Overview
When Susan Arico stepped back from her jam-packed calendar, she compared it to a "dark, overcrowded broom closet." Dare to open the door, she said, "and everything is apt to topple perilously down into a heap." Each activity in her "broom closet" could be described as God-pleasing, but she realized that taken together, her activities had become God-replacing.
Her dilemma is shared by many engaged, motivated, and productive Christians. Use this Bible study to help find your "spacious place" - to daily put yourself, your activities, and the hours of your day in God's hands.
Table of Contents
SCRIPTURE: Exodus 18:13–26; 20:8–11; Psalm 18:16–19; Proverbs 31:10–31; Matthew 11:28–30; Acts 6:1–7
LEADER'S GUIDE
• Identify the Current Issue
• Discover the Eternal Principles
—Teaching point one: God intends for us to use our gifts.
—Teaching point two: Our activities can become our god.
—Teaching point three: God offers (and commands) rest.
—Teaching point four: You can stand in the "spacious place" God has for you.
• Apply Your Findings
• Recommended Resources
ARTICLE FROM CHRISTIANITY TODAY
• "Laying Down a Busy Life" by Susan Arico
(GiftedforLeadership.com)
Total number of pages—
From Dawn to Dusk