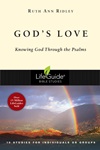 God's Love
Knowing God through the Psalms.
10 Session Bible Study
Overview
In this 10-session study, you will dive deep into the Book of Psalms to look closely at various facets of God's character and his love.
Introduction
Getting the Most Out of God's Love
This section introduces the topic, explains the structure followed in each study, and offers tips for those approaching the study on their own as well as those participating in a group.
Session One
The God Who Satisfies
What kinds of incidents or situations cause you to feel the need for something more? Life may leave us unsatisfied, but God can quench our thirst. The more we focus on him, the more satisfaction we will experience.
Psalm 104
Session Two
The God Who Understands
There are so many needs in our own lives and in those around us that it's easier to be frantic than to be hopeful. While God understands and empathizes with us in our confusion and hurt, he also urges us to be alert to the ever-present reasons for praise.
Psalm 147
Session Three
The God Who Helps
In Psalm 40, David speaks with honesty about his anger and helplessness. He seeks a larger perspective, then he waits for God to help at the proper time. When we ask God to help us, it is like asking a loving, trustworthy friend who possesses infinite foresight and ability.
Psalm 40
Session Four
The God Who Calms Fears
We all battle fear, worry, or anxiety in some way. In Psalm 27 David recounts his worries, but he also reminds himself to trust in God. The more we understand that God is for us today, the more we'll live with courage instead of fear.
Psalm 27
Session Five
The God Who Restores
Experiences of illness and health, failure and success, loss and restoration are part of being human. David learned that the habit of reviewing past answers to prayer could serve as a source of strength and hope in the present.
Psalm 30
Session Six
The God Who Strengthens
What does it mean to be a strong person? David knew his strengths, and they were great; but he also knew his weaknesses. He understood his need for the power of God and explored these themes in Psalm 18.
Psalm 18:1–36
Session Seven
The God Who Listens
The method God has chosen for bestowing the goodness of his attentiveness on us is relationship. We talk and he listens. He asks and we answer. We speak and he responds, steadying us and giving us more of himself. He is near to each of us, always listening and longing for us to do the same.
Psalm 34
Session Eight
The God Who Gives Refuge
Life is hard and, at times, we need a safe place to hide. David's Psalm 31 is a challenge to stand on the fact of the reliable shelter God promises to be for us, even when—especially when—we are going to pieces.
Psalm 31
Session Nine
The God Who Loves
The psalmists stitch the silken thread of God's love through the majority of the psalms. They mention it in the course of praising, pleading, wondering, laughing, needing, fearing, rejoicing, complaining, and contemplating. In Psalm 36, David explores what we need to understand about God's love to help us survive the difficulties of our relationships.
Psalm 36
Session Ten
The God Who Reigns
God's power is tremendous, beyond our comprehension. But alongside this power, he is always loving and good. God is the ultimate authority who deserves our praise.
Psalm 145
Total number of pages: 69
Ruth Ann Ridley is a freelance editor serving as an associate staff member with the Navigators. She has written the Women of Character Bible Study Series (NavPress) and Every Marriage is Different (Victor Books). She has led Bible studies for more than thirty years.
God's Love