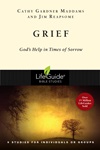 Grief: God's Help in Times of Sorrow
9 Session Bible Study
Overview
A friend moves away. You get laid off. Cancer takes the life of a family member. We all experience grief and loss in some form. Whether you're supporting a grieving friend or mourning a loss of your own, these nine studies from Psalms will help you express what you're feeling and lead you to the arms of our compassionate God, who weeps with us, listens to our cries, and understands our pain.
Introduction
Getting the Most Out of Grief
This section introduces the topic, explains the structure followed in each study and offers tips for those approaching the study on their own as well as those participating in a group.
Session One
Denial
Denial is often one of the first emotions experienced when grieving, but as we face our grief, the pain and emptiness will diminish.
Psalm 46
Session Two
Fear
Grief deeply affects our lives, to the point where there is often no sense of normal. This can contribute to a state of uncertainty, anxiety, and fear.
Psalm 62
Session Three
Anger
Anger is an emotion that can be extremely difficult to express or even acknowledge, especially in our society. But anger is part of God's design for us, and we must embrace it and express it in nonthreatening, unharmful ways.
Psalm 77
Session Four
Guilt
In small doses, guilt can keep us honest and can be productive. But if guilt is magnified and misdirected, it can become overwhelming and cause great suffering.
Psalm 32
Session Five
Sadness
Sadness is one of the most difficult emotions to deal with after a painful loss or life change.
Psalm 31
Session Six
Hope
How do we begin to reconstruct our lives so that we can have a hopeful future?
Psalm 33
Session Seven
Faith
The uncertainties that accompany grief can cause us to doubt, but we must hold on to faith.
Psalm 100
Session Eight
Acceptance
A significant step in the healing process occurs when we begin to accept the fact that the life we once knew is not going to return.
Psalm 37
Session Nine
Praise
Even when we don't feel God's presence, he is with us. His love is always available to us.
Psalm 71
Total number of pages—65 pages
Cathy Gardner Maddams taught theater arts for twenty-five years in San Jose, California, and is now retired from teaching. She and her husband each experienced the loss of a spouse and now cofacilitate grief support and Bible study groups at Church of the Chimes in San Jose. Maddams was trained as a grief counselor at the Centre for Living with Dying in Santa Clara, California.
James Reapsome, a retired pastor, also formerly served as editor of Evangelical Missions Quarterly and World Pulse newsletter as well as executive director of Evangelical Missions Information Service in Wheaton, Illinois.
Grief: God's Help in Times of Sorrow