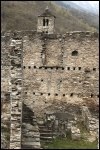 Haggai: Being a Pillar in God's House
This course reveals that abundant life is possible when people respond in faith and obedience to Christ.
5 Session Bible Study
The Book of Haggai is about how God's prophet stirs up the Israelites to get back to work on the rebuilding of the temple. There is an analogy between temple building and the Christian's focus on being disciples, making disciples, and serving the church body. There's also an analogy between the literal drought the Israelites experienced and what God's people may experience—the dryness of dissatisfaction and disappointment—when they live as if they could care less whether or not God was present and active. This five-session course reveals that the abundant life is only possible when people respond in faith and obedience to the Lord Jesus Christ.
Session One
Consequences of Neglecting God's Work
If we stop working for God, he may make sure nothing works for us.
Haggai 1:1–11

The purpose of this study is to call us to analyze carefully whether the worship and work of God is our ultimate priority.
Session Two
The Reward of Doing God's Work
if we work for God, he will be with us.
Haggai 1:12–15

This study will challenge us to be disciples and make disciples.
Session Three
God's Work Is Always Worthwhile
We need to remember the value of God's work in order to persevere.
Haggai 2:1–5

The purpose of this study is to convince us that God's presence and work among us is what makes our work significant.
Session Four
Looking Forward to God's House
When Jesus comes again, he will remodel this church house to far outdo even the greatest mansion on earth.
Haggai 2:6–9; 20–23

The study gives us hope based on the promise that our current work on God's "house" is going to be made spectacular when Christ comes again.
Session Five
God's Grace Enables Us to Work for Him
When God calls us to work for him, he displays his matchless grace.
Haggai 2:10–19

The purpose of this study is to instill faith in God's promise to bless those who work on his house.
This Study Through the Bible Course is based on a sermon series by Randal Pelton and Craig Brian Larson.
Haggai: Being a Pillar in God's House