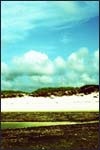 Heaven Is God's Dwelling Place
"I am going there to prepare a place for you …" (John 14:2–3)
Single Session Bible Study
Overview
By its very nature, aging detaches us from earthly connections—our friends and spouses die, we downsize, our health becomes compromised, and the world that we are familiar with becomes strange and confusing. If these losses are not balanced by a keen awareness and well-founded hope in an eternity spent with God, then depression, anger, frustration, and fear can result. Keeping eternity in view helps us to accept these transitions with serenity. We understand that the losses are temporary, make the most of our remaining time on earth, and joyfully anticipate our future in the dwelling place of God.
Table of Contents
SCRIPTURE: Isaiah 65:17–25; John 14:1–7; 2 Peter 1:3–11; Revelation 21–22:6
LEADER'S GUIDE
• Identify the Current Issue
• Discover the Eternal Principles
—Teaching point one: Heaven is a real place, not just a state of mind.
—Teaching point two: Heaven is more than fluffy clouds and angels with harps!
—Teaching point three: Live with eternity in view.
• Apply Your Findings
• Recommended Resources
Total number of pages—9
Heaven Is God's Dwelling Place
SmallGroups.com offers a diverse set of adaptable training tools for small group models that can be customized to a church's unique needs.
14-Day Free Trial
Get complete access free for 14 days.
Featured Training Tools:

Connect People into Small Groups
Theological Discussions for Everyone