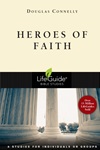 Heroes of Faith
8 Session Bible Study
Overview
These eight studies on the heroes of faith from Hebrews will encourage you, inspire you, and help you deepen your trust in the God who still keeps all his promises, so that you might live out your faith in radical ways today.
Introduction
Getting the Most Out of Heroes of Faith
This section introduces the topic, explains the structure followed in each study and offers tips for those approaching the study on their own as well as those participating in a group.
Session One
Pleasing God: Abel
What does faith help us grasp about the universe around us? Hebrews 11:4 says that "by faith Abel offered God a better sacrifice." How was his sacrifice better than Cain's?
Hebrews 11:1–6; Genesis 4:1–12
Session Two
Making Difficult Choices: Noah
It may have taken Noah 120 years to build the ark and yet, in all that time, it seems that only his own family believed his witness. What do these "results" tell you about God's expectations of us as his followers?
Hebrews 11:7; Genesis 6:5–22
Session Three
Believing the Impossible: Abraham and Sarah
Why did the Lord's promise cause Sarah to laugh and require such great faith for both Abraham and Sarah? About what situation or circumstance is God telling you that it is never too late?
Hebrews 11:8–16; Genesis 18:1–15; 21:1–7
Session Four
Anticipating God's Blessing: Isaac
In Genesis 25:23, when Isaac's wife, Rebekah, became pregnant with Esau and Jacob, God told her that "the older [son] will serve the younger." Why do you think Isaac still planned to give Esau his blessing? Whose blessing or approval means the most to you and why?
Hebrews 11:17–20; Genesis 27:1–40
Session Five
Faith for the Future: Jacob
The writer of Hebrews sees Jacob's blessing on Joseph's sons as an act of worship. How is confidence in God's promises for the future an act of worship?
Hebrews 11:20–22; Genesis 48:1–22
Session Six
Resting on a Trustworthy God: Moses
What signs of success in our culture might God ask you to turn from as an expression of your confident trust in him? What reward was Moses looking forward to?
Hebrews 11:23–29; Exodus 12:21–36
Session Seven
Facing Our Fears: Rahab
Rahab's first work of faith was a lie! Was Rahab right or wrong to lie about the presence of the spies? How would you have handled the dilemma?
Hebrews 11:30–31; Joshua 2:1–21
Session Eight
Your Heroic Faith
The author of Hebrews sees the men and women of faith who lived in the past to be "a great cloud of witnesses." What does that mean to you as you pursue a deeper level of confident trust in God in your own life?
Hebrews 11:32–12:3
Leader's Notes
This section includes information on preparing and leading studies, components of small groups, selected discussion questions, and background notes and suggestions for each study.
Total number of pages - 64 pages
Douglas Connelly (M.Div. and M.Th., Grace Theological Seminary) is senior pastor at Parkside Community Church in Sterling Heights, Michigan. He has written several books and Bible study guides, including the LifeGuide® Bible Studies Angels, Daniel, Elijah, Encountering Jesus, Following Jesus, Forgiveness, Good & Evil, Heaven, I Am, John, The Lord's Prayer, Meeting the Spirit, Miracles and Names of God.
Heroes of Faith