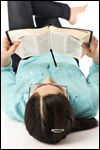 How to Read the Bible (and Understand It Too)
Learn how to read and interpret the Bible.
7 Session Bible Study
Overview
As a curriculum for middle school students, "How to Read the Bible" clearly explains the different genres of God's Word so kids can better understand what they're reading and how to apply it to their daily lives. With examples and anecdotes all middle school students can relate to, this kid-friendly hermeneutics will help the ancient Scriptures come alive in new and exciting ways. And hands-on Bible studies flesh out and reinforce the principles being explored and taught. While this flexible curriculum can be given to highly motivated students for personal study, it's perfect for use in a small or large group setting. "How to Read the Bible" can also be a helpful supplement for your current catechism or Sunday school materials.
Sessions
What's Hermeneutics?
It's Not About Me
Taking Off Your Glasses
Old Testament Genres
New Testament Genres
The (Really, Really) BIG Picture
Where Can I Get a Bible?
Total number of pages - 32 pages
by Holly Vicente Robaina
How to Read the Bible (and Understand It Too)
SmallGroups.com offers a diverse set of adaptable training tools for small group models that can be customized to a church's unique needs.
14-Day Free Trial
Get complete access free for 14 days.
Featured Training Tools:

Connect People into Small Groups
A la carte price:
Theological Discussions for Everyone
A la carte price: