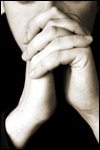 How to Repent
We've come to think our faith is about comfort. It's not.
Single Session Bible Study
Overview
Repenting from sins may not be our favorite way of passing time, but it is necessary. Former Christianity Today columnist Frederica Mathewes-Green says that "caring" is fine, but being a Christian also involves preaching—and practicing—repentance. In this study based on the life of David, we will see what it looks like.
Table of Contents
LEADER'S GUIDE
• Identify the Current Issue
• Discover the Eternal Principles
—Teaching point one: It takes an instant to decide to repent.
—Teaching point two: The process of repentance requires an ever greater understanding of ourselves as sinners and of the cleansing we need.
—Teaching point three: One sinner's repentance benefits many sinners.
—Teaching point four: What does Christian spirituality look like and feel like?
• Apply Your Findings
HANDOUT FOR FURTHER STUDY
ARTICLE FROM CHRISTIANITY TODAY
• Whatever Happened to Repentance, by Frederica Mathewes-Green (February 4, 2002, p. 56)
Total number of pages—
How to Repent