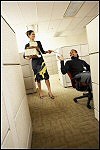 Is 9 to 5 Your Identity?
Too often, Christians define themselves by their jobs instead of by their lives in Christ.
Single Session Bible Study
Overview
Most people would agree that it's important to have a job to provide for our needs. However, it is easy to get caught up in the alluring benefits of success. As Christians, we want to make sure our jobs do not become idols, coming before Christ. After all, what are we living for? Let's make sure to keep our priorities straight and give Christ the glory and eternal thanksgiving he is so worthy of.
Table of Contents
LEADER'S GUIDE
• The Issue: Discussion Starters
—What is the difference between how jobs meet our needs for belonging and self-esteem and how Christ meets those needs?

• The Scriptures: Sample Questions
—How will we obtain earthly success and possessions if we don't strive for them?

• The Application: Call to Action
—What are some tangible ways in which your church can appreciate and build the self-esteem of its workers? Consider raises, award ceremonies, a "Worker of the Week'' bulletin board, and so on.
• Apply Your Findings
HANDOUT FOR FURTHER STUDY
ARTICLE FROM CHRISTIANITY TODAY
• Don't Ask Me What I 'Do', by Steve Jolley (CHRISTIANITY TODAY)
Total number of pages—
Is 9 to 5 Your Identity?