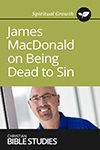 James MacDonald on Being Dead to Sin
Freedom from sin, day by day
Forgiveness of sin is just the beginning of life in Christ. But the problem is that so many people stay there; they don't move on. Jesus didn't die and rise from the dead simply to forgive you. He rose to live his life through you. When we truly believe that Christ has destroyed the power of sin and death, we can begin to live the way he wants us to. It will take understanding and grabbing on to our new identity in Christ. This 4-session video Bible study will help you discover how to walk in freedom from sin so that you can fully live for Christ.
Session One
You Can't Live the Christian Life
Beyond forgiveness, we are alive in Christ.
Video Length: 14 minutes
Session Two
Break the Power of Sin
The risen Christ breaks sin's and death's dominion over us.
Video Length: 7 minutes Session Two
Session Three
Embrace Your New Identity
Living for God is a day-by-day choice.
Video Length: 8 minutes
Session Four
Walk in Freedom
Freedom from sin comes in confessing the reality of Christ.
Video Length: 11 minutes
Total number of pages—20
James MacDonald on Being Dead to Sin
SmallGroups.com offers a diverse set of adaptable training tools for small group models that can be customized to a church's unique needs.
14-Day Free Trial
Get complete access free for 14 days.
Featured Training Tools:

Connect People into Small Groups
A la carte price:
Theological Discussions for Everyone
A la carte price: