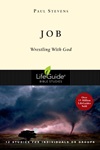 Job: Wrestling with God
Explore the most difficult questions of life.
12 Session Bible Study
Overview
These 12 inductive Bible studies lead you through Job, a book that explores the most difficult questions of life, such as why there is pain, suffering, and heartache in the world.
Introduction
Getting the Most Out of Job
This section introduces the topic, explains the structure followed in each study and offers tips for those approaching the study on their own as well as those participating in a group.
Session One
Dueling with the Devil
For what good reasons could God agree to a contest that would affect Job and his family so painfully? How would you respond to someone who charges that religion is only for those who can't make it on their own?
Job 1:1-2:10
Session Two
God in the Dark
Job's chief complaint, to our surprise, is not his material loss but the loss of his spiritual estate. In what ways does this challenge you when faced with discontentment?
Job 2:11-4:17
Session Three
God-Talk: How Not to Be Spiritual Friends
When, if ever, have you felt that "the arrows of the Almighty are in me"? What help would you have appreciated from others?
Job 6
Session Four
If God Were Only Human!
In none of his petitions does Job ask for his sickness to be cured. Describe what it is he wants from God. When tragedy strikes, what difference does it make to know that God has come in the flesh?
Job 7:7-21; 9:14-10:7
Session Five
The Faith That Rebels
Why are Job's friends worthless physicians? What do you learn from this regarding caring for deeply needy people?
Job 13:1-14:17
Session Six
Our Heavenly Guarantor
What certainty is impressed on Job's soul as he prays through his tears? What do you feel most sure of at this point in your life?
Job 16:7-17:3; 19:23-27
Session Seven
The Problem of Pain
How can the discoveries Job is making help Job and us deal with the problem of pain?
Job 20:1-19; 21:1-16
Session Eight
The Silence of God
How does Job's experience show the difference between a God who comforts through silence and an absent god who is not really there at all?
Job 23
Session Nine
Songs in the Night
Not all of Elihu's advice is misguided. He does propose that God, if he were sought, would give cheer and comfort in the night when things seem more hopeless than ever. When, if ever, have you received from God a "song in the night"?
Job 35; 36:13-16
Session Ten
God in the Storm
Why do you think it is sometimes more important in our spiritual journey to get more questions than answers? In what ways do God's questions address Job's deepest questions about God in the previous chapters?
Job 38:1-11, 31-41; 40:1-5
Session Eleven
The Joy of Repentance
In what ways can "despising oneself" be entirely healthy and holy? In what way could it be unholy self-hatred?
Job 40:6-14; 42:1-6
Session Twelve
Is Faith Always Worthwhile?
Some people regard the "happily ever after" ending of the story as an anticlimax, unsuitable to the spiritual breakthrough of 42:1-6. What does God's final blessing reveal about Job? about God?
Job 42:7-17
Total number of pages – 95 pages
Paul Stevens is Professor Emeritus of Marketplace Theology and Leadership at Regent College (Vancouver, British Columbia), and a marketplace ministry mentor. He has worked as a carpenter and businessman, and served as the pastor of an inner-city church in Montreal. He has written many books and Bible studies, including the LifeGuide® Bible Studies 1 Corinthians (with Dan Williams), 2 Corinthians, Revelation, End Times and Spiritual Gifts.
Job: Wrestling with God