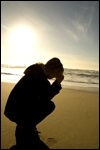 John Ortberg on Our Most Important Choice
Are you an admirer or a follower of Jesus?
Many people of Jesus' day admired him—they admired the words he said and the miracles he performed. But few people chose to follow Jesus. Help your group explore why your reaction to that choice will make all the difference in the world.
Session 1
Admiring vs. Following
There are two types of people who claim Jesus as Lord.
Video length: 5 minutes
Session 2
To Admire Is to Retain Control
Exploring the broad gate and the wide road
Video length: 8 minutes
Session 3
To Follow Is to Give Everything
The narrow road is not an easy path.
Video length: 12 minutes
Session 4
Admiring vs. Following: Your Decision
Which path have you chosen? Which will you choose today?
Video length: 5 minutes
Total number of pages—26
SmallGroups.com offers a diverse set of adaptable training tools for small group models that can be customized to a church's unique needs.
14-Day Free Trial
Get complete access free for 14 days.
Featured Training Tools:

Connect People into Small Groups
Theological Discussions for Everyone