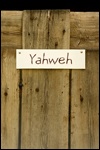 Knowing God Through His Names
What God invites us to call him says volumes about his relationship to us.
Single Session Bible Study
Overview
We have heard God's name invoked often following the national tragedy of September 11 and its anticipated consequences. "God Bless America" has rapidly become our new, if unofficial, national motto. Everywhere we look, the Almighty is addressed simply as "God." But he is known in the Bible by many names. Why? In this study, Ken Hemphill, author of The Names of God (Broadman & Holman, 2001), describes some of the names of God and the reasons for his multi-faceted self-revelation.
Table of Contents
LEADER'S GUIDE
• Identify the Current Issue
• Discover the Eternal Principles
-Teaching point one: The names of God are changing and unchanging.
-Teaching point two: The names of God are his revelation of himself to us.
-Teaching point three: The names of God are our invitation to know him better.
• Apply Your Findings
HANDOUT FOR FURTHER STUDY
ARTICLE FROM CHRISTIANITY TODAY
• How Excellent Are Thy Names, by Ken Hemphill (October 22, 2001)
Total number of pages - 13
Knowing God Through His Names