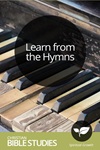 Learn from the Hymns
A study of six classic hymns and their meaning in our lives today.
6 Session Bible Study
The writers of our favorite hymns were not just happy, pious, and "old-fashioned" people. One of these hymns was written by a man who experienced a dramatic conversion from gang member to preacher, another by a man who lost his entire family in a sinking ship, and yet another by a woman who was discouraged in her work as a missionary. It is through these trials that these men and women of God were able to praise him from the depths of their aching hearts.
What do these "old" words mean, and do they have any value for us today? What do they reveal about God's character? This study will help you and your group learn more about the origins and lessons from these six classic hymns. Complete lyrics of each hymn are included.
Session One
"Holy, Holy, Holy"
A study of the classic hymn and its meaning for today.
Exodus 33:12-23; Matthew 3:13-17; Revelation 4:1-11
Session Two
"Amazing Grace"
A study of the classic hymn and the transforming power of God's grace.
Psalm 118:1-14; 2 Corinthians 12:7-10; Ephesians 2:1-10
Session Three
"Have Thine Own Way, Lord"
A study of the classic hymn and the importance of an attitude of surrender to the Lord.
Psalm 51:1-19; Isaiah 45:5-12; 2 Corinthians 4:7-12
Session Four
"It Is Well with My Soul"
A study of the classic hymn and of triumph over tragedy.
Psalm 42:1-11; 103:1-22; Romans 8:31-39
Session Five
"Jesus, Lover of My Soul"
A look at the classic hymn.
Psalm 18:1-36; 23:1-6; Luke 15:11-32
Session Six
"Come Thou Fount"
A study of the classic hymn and the importance of remembering God's blessings in our lives.
Deuteronomy 8:6-20; 1 Samuel 7:2-13; Ephesians 1:3-10
Total number of pages—68
Learn from the Hymns