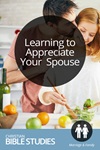 Learning to Appreciate Your Spouse
How can you train yourself to value your spouse?
Single Session Bible Study
It's all too easy for couples to look forward to marriage and anticipate smooth roads and frequent romance. But give it a year or two, and most quickly realize just how much work is needed to maintain a healthy, thriving marriage! This one-session study provides ways for to learn how to value and appreciate their spouse . Ideal for personal study, marriage-focused , or pre-marital counseling, learn what it takes to build a marriage of love and respect.
Learning to Appreciate Your Spouse