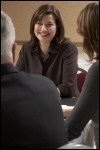 Loving Those You Lead
If we are in leadership, we will eventually have to learn to love the unlovely.
Single Session Bible Study
Overview
"Play nice," we tell our children when they spend time with others. We know it's inevitable: someone will get hurt. Fast forward a few decades and we find nothing much has changed. As long as we work with people, we can get hurt; but we can determine whether we will react or respond to the offender.
Table of Contents
SCRIPTURE: Mark 6:1–5; Luke 9:57–62; 14:1–13; 18:35–42; 1 Corinthians 13:4–7; Ephesians 4:29–32
LEADER'S GUIDE
• Identify the Current Issue
• Discover the Eternal Principles
—Teaching point one: Loving others means we might get hurt.
—Teaching point two: Loving others means forgiving them.
—Teaching point three: Move toward those who hurt you.
• Apply Your Findings
• Recommended Resources
ARTICLE FROM CHRISTIANITY TODAY
• "Loving Those We Lead" by Sherryl Stone
(GiftedforLeadership.com, June 1, 2007)
Total number of pages—
Loving Those You Lead
SmallGroups.com offers a diverse set of adaptable training tools for small group models that can be customized to a church's unique needs.
14-Day Free Trial
Get complete access free for 14 days.
Featured Training Tools:

Connect People into Small Groups
Theological Discussions for Everyone