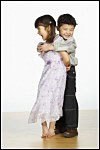 Make Church a Positive Experience for Kids
How can we help kids to love church?
Single Session Bible Study
Overview
Children need to feel that they are an important part of the church community, says Michelle Leise in her article for CHRISTIAN PARENTING TODAY magazine. The thoughts, feelings, and attitudes that we develop as children can carry over into our adult lives. This is of critical importance when we consider how kids view church. We want to be purposeful about making church a positive experience for kids so that they desire to have a personal relationship with Christ and intimate fellowship with God's people.
Why do children need to observe adults worshiping God? How does our attitude toward children in the church affect their spiritual formation? How can we make church an exciting, kid-friendly environment? Why is it important for kids to serve in the church? These are questions we will be discussing in this study.
Table of Contents
SCRIPTURE: 2 Chronicles 20:1–19; Proverbs 20:11; Mark 9:36–42; 10:13–16; Luke 2:39–52; 1 Timothy 4:12
LEADER'S GUIDE
• Identify the Current Issue
• Discover the Eternal Principles
—Teaching point one: Children should see church as a caring community that attends to their physical, emotional, and spiritual needs.
—Teaching point two: Children grow in their faith by observing adults worshiping God.
—Teaching point three: Children should feel welcome in the name of Jesus.
—Teaching point four: Children should understand that God has a purpose and a plan for each of them in the church.
• Apply Your Findings
• Additional Resources
ARTICLE FROM CHRISTIAN PARENTING TODAY
• Kids in Church, by Michelle Leise (4 printed pages)
Total number of pages—
Make Church a Positive Experience for Kids