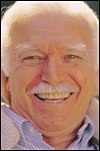 Making Retirement Meaningful
How does God want you to use the talents and life experience he gave you now that you are retired?
3 Session Bible Study
Just hearing the word retirement conjures images of leisurely activities. While such pursuits bring a certain amount of satisfaction, many retirees are finding they want to spend their latter years in significant service to a cause greater than their personal pleasure. How does God want you to use your talents and life experience? This three-part course will help you answer that question.
Session One
Finding Significance in Retirement
Retirement may be the beginning of a second career.
Matthew 6:19–21; Romans 12:4–8; Galatians 5:13; Ephesians 5:15–16

Decisions about retirement should be made before you settle into a routine that becomes too comfortable to change. Why choose a deliberate path of service in retirement? How does God want you to use your talents and life experience? How do you find significance in the kind of work that God would have you do? These are the questions we'll be discussing in this study.
Session Two
Tapping Retirees for Ministry
The church's view of retirees may determine their involvement.
Genesis 3:19; Job 12:12; Psalm 92:12–14; Romans 12:4–8; 2 Corinthians 5:19–21; Hebrews 12:1–3

As the baby boom generation approaches retirement, increasing numbers of educated, capable, and eager adults will be seeking ways to use their skills in the church. Some will volunteer, but some will only rise to a task if challenged. Church leaders must give serious consideration to how they might understand and use the skills and experience of these older adults.
Session Three
Giving Yourself Away During Retirement
Great contentment can be found in giving away your time, talents, and life learning to those who need it.
Psalm 92:12–14; Luke 12:48; Romans 12:1–2; 2 Corinthians 9:11–12; Titus 2:1–8; 1 Peter 4:10

How can retirees view their roles in the church body as vital links to meeting important needs? What does it mean to give yourself away to others versus living for yourself? What is our motive for this selfless act of using our time, talent, and skill for the benefit of others?
Total number of pages—35
Making Retirement Meaningful