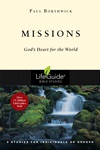 Mission: God's Heart for the World
9 Session Bible Study
Overview
In these nine studies, you'll explore the God who reaches out—through Jesus and through human ambassadors. You'll discover that the call to "missions" is not for a select group but is a part of God's call to every Christian. Even you.
Introduction
Getting the Most Out of Missions
This section introduces the topic, explains the structure followed in each study and offers tips for those approaching the study on their own as well as those participating in a group.
Session One
God the Seeker
Adam and Eve made the choice to sin, yet God, the sinned-against-one in this case, still came looking for them. What is our responsibility for taking the initiative in going out after others, even those who have intentionally wronged us or sinned against God?
Genesis 3:1-9
Session Two
Blessed to Be a Blessing
In Genesis 11:4 God judges and condemns the people who intended to build the tower of Babel in an effort to "make a name" for themselves, yet here God promises to make Abram's name great. What is the difference?
Genesis 12:1-9
Session Three
The Lord Reigns
What does it mean to "proclaim his salvation day after day"?
Psalm 96
Session Four
God's Attack on Racism
Some think that God "puts us on the shelf" and doesn't use us to serve him if we disobey him. What does Jonah teach us about God's mercy toward his people?
Jonah 1–4
Session Five
Concentric-Circle Outreach
Jerusalem, Judea, Samaria and the ends of the earth describe our concentric circles of outreach, the ever-widening ripples that followers of Jesus Christ are supposed to touch. Think through the applications for your outreach as Christ's witness. Who is your Jerusalem? Who is your "ends of the earth"?
Acts 1:1-11
Session Six
Ambassadors for Christ
What does it mean to regard others "from a worldly point of view"?
2 Corinthians 5:11-21
Session Seven
The Motivational Example
Notice in verses 6-8 that Jesus had to come into the world in order to reach lost humanity; he couldn't reach them in the same way from heaven. What "worlds" might you need to go into so that others can know the love of God?
Philippians 2:1-11
Session Eight
Eyes on the Prize
What steps of faith and what types of sacrifices might we be willing to make if our eyes are on the "joy set before us"?
Hebrews 11:1–12:3
Session Nine
Diversity in Heaven
Analyze the words of the saints' worship as well as the angels'. How much focus is on who God is, and how much on what God has done for us? How does this compare with the worship style in your church?
Revelation 7:9-14
Total number of pages—74 pages
Paul Borthwick teaches missions at Gordon College in Wenham, Massachusetts, and consults for Development Associates International. He is the author of several books, including Six Dangerous Questions to Transform Your View of the World (InterVarsity Press).
Mission: God's Heart for the World