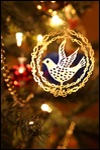 Peace on Earth
This kind of peace may surpass even our understanding.
Single Session Bible Study
Overview
We all long for peace, especially at Christmas. But while Jesus blessed peacemakers and left his peace with them, he did not promise they would have peaceful relations with the world. In this study, we will explore the shadow of the sword that followed Jesus and continues to follow us.
Table of Contents
SCRIPTURE: Luke 1:46-56, 67-79, 2:27-36; Matthew 10:34-36; 1 Peter 2:6-8; 2 Corinthians 2:15-16; John 15:18; 17:14-18
LEADER'S GUIDE
• Identify the Current Issue
• Discover the Eternal Principles
—Teaching point one: The nature of Christ's first coming was divisive at the core.
—Teaching point two: The good news for some is bad news for others.
—Teaching point three: What is true of the leader will be true of the followers.
• Apply Your Findings
ARTICLE FROM CHRISTIANITY TODAY
• Jesus' Sword, by Philip Yancey
Total number of pages—
Peace on Earth
SmallGroups.com offers a diverse set of adaptable training tools for small group models that can be customized to a church's unique needs.
14-Day Free Trial
Get complete access free for 14 days.
Featured Training Tools:

Connect People into Small Groups
A la carte price:
Theological Discussions for Everyone
A la carte price: