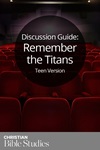 Remember the Titans—Teen Version
The true story of a Virginia high school football team triumphing over racism.
Single Session Bible Study
Overview
"Sports builds character." Whoever said that probably didn't follow the off-field pursuits of some NBA, NFL, or major league baseball players very closely. Nonetheless, sports can act as a microcosm of the human struggle and teach us life lessons. This is the case with the true story portrayed in the film Remember the Titans.In 1971 an Alexandria, Virginia, high school football team finds that their most intimidating opponent is themselves as they struggle with racial integration. This discussion guide will help you discuss the themes of courage, leadership, and racial unity found in Remember the Titans.
Discussion Guide
• Movie Summary
• Discussing the Scenes
—Racial Unity
(Revelation 5:9–10)
—Leadership
(Matthew 20:25–28; Ephesians 4:14–16)
—Courage
(Daniel 6:1–28)
• As the Credits Roll
Based On
Remember the Titans (Walt Disney Pictures, 2000), rated PG.
This Bible study is not an endorsement of the movie by Christianity Today International. Before watching this film, please get advice and guidance from your parents or youth pastor.
Photo © Walt Disney Pictures.
Total number of pages—
Add to Cart
SmallGroups.com offers a diverse set of adaptable training tools for small group models that can be customized to a church's unique needs.
14-Day Free Trial
Get complete access free for 14 days.
Featured Training Tools:

Connect People into Small Groups
Theological Discussions for Everyone