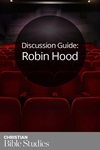 Robin Hood
Labeled an outlaw by "divinely appointed" King John, the legendary archer must work outside the law to fight for what's right and defend the oppressed.
Single Session Bible Study
Robin Hood
SmallGroups.com offers a diverse set of adaptable training tools for small group models that can be customized to a church's unique needs.
14-Day Free Trial
Get complete access free for 14 days.
Featured Training Tools:

Connect People into Small Groups
A la carte price:
Theological Discussions for Everyone
A la carte price: