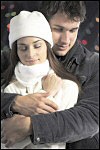 Seeking God Together
Turn to God as a couple.
Single Session Bible Study
Overview
The music fades and everyone leans forward to hear this beautiful couple's words of promise to each other. Standing before God, family members, and friends, they declare their love and commitment. After the wedding, the marriage begins. Many factors determine whether a marriage will be a strong one. The wise couple will not leave God at the altar but will invite him into their lives. God watches and waits, eager to respond to hearts that call to him. Marriage is a great time to seek God together.
Table of Contents
SCRIPTURE: Matthew 6:25–33; 18:19–20; John 3:1–18; Romans 6:23; 1 Corinthians 13:1–13; Hebrews 9:27–28; 1 John 5:12
LEADER'S GUIDE
• Identify the Current Issue
• Discover the Eternal Principles
—Teaching point one: Couples can seek God for salvation.
—Teaching point two: Couples can seek God in prayer.
—Teaching point three: Couples can seek God for love.
—Teaching point four: Couples can individually seek God in worship.
• Apply Your Findings
• Additional Resources
ARTICLE FROM MARRIAGE PARTNERSHIP
• The Soul Cure, by Steve and Valerie Bell (Winter 2002, 4 printed pages)
Total number of pages—11
Seeking God Together
SmallGroups.com offers a diverse set of adaptable training tools for small group models that can be customized to a church's unique needs.
14-Day Free Trial
Get complete access free for 14 days.
Featured Training Tools:

Connect People into Small Groups
A la carte price:
Theological Discussions for Everyone
A la carte price: