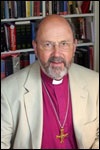 Simply Christian: Why Christianity Makes Sense
N. T. Wright explains the fundamental elements of Christianity.
Note: Because of the size of this video resource, you will need to download both Part 1 and Part 2.
N.T. Wright shares the truths from his book Simply Christian in these 10 video sessions. Wright outlines Christianity in a way that challenges viewers but uses language that is easy to understand. These 10 video lessons also come with a PDF discussion guide that corresponds to each lesson.
Session 1
Simply Christian Introduction
Session 2
Justice and Spirituality
Session 3
Relationships and Beauty
Session 4
God
Session 5
Israel
Session 6
Jesus
Session 7
The Holy Spirit
Session 8
Worship and Prayer
Session 9
Scripture
Session 10
Church and New Creation
Total number of pages—115
This course is based on the book Simply Christian: Why Christianity Makes Sense by N. T. Wright, published by HarperCollins in 2006.
Simply Christian: Why Christianity Makes Sense
SmallGroups.com offers a diverse set of adaptable training tools for small group models that can be customized to a church's unique needs.
14-Day Free Trial
Get complete access free for 14 days.
Featured Training Tools:

Connect People into Small Groups
Theological Discussions for Everyone