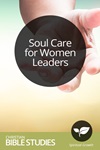 Soul Care for Women Leaders
This course helps women leaders find rest and encouragement.
6 Session Bible Study
Dark nights of the soul can be rooted in a variety of spiritual dilemmas. Maybe you are facing burnout from saying "yes" to too many well-intentioned activities, and aren't even seeing much fruit to your labor. Maybe it's a crisis of faith that is made doubly difficult because you're supposed to be a spiritual leader. Or maybe you're just finding it difficult to hear God's voice through all the noise of a busy life.
Does God promise that our work for the Kingdom will always led to spiritual and ministry success? Where can we go when we're depleted? What do we need in those moments? How will God meet our needs? This six-session Bible study course focuses on biblical characters and spiritual disciplines that will restore your weary soul. The purpose of this course is to learn to embrace the dark nights of the soul, and the clarity and closeness they can bring.
Session One
From Dawn to Dusk
Discover God's rest in a busy life.
Exodus 18:13–26; 20:8–11; Psalm 18:16–19; Proverbs 31:10–31; Matthew 11:28–30; Acts 6:1–7
Session Two
Silence is Golden
Learn how to grow through solitude.
Exodus 19:16–19; Numbers 6:24–26; 1 Kings 19:9–13; Psalm 131; Job 37:14–24; Mark 4:35–41; James 1:2–27
Session Three
Your Just Deserts
Learning to lead in a culture of entitlement.
Judges 11:29–40; Matthew 20:1–16; 1 Corinthians 3:5–11; Hebrews 11:35–40
Session Four
A Crisis of Faith
God's faithfulness to us is not dependent upon our level of faith in him.
Job 13:12–15; 29:1–6; 40:1–7; 42:1–16; Psalm 22:1–8
Session Five
Dark Night of the Soul
Finding hope for the downcast soul.
1 Kings 19:1–18; Psalm 42; Habakkuk 1:1–2:1; 3:16–19; Mark 14:32–42
Session Six
Rest for the Weary
Where to go when you're empty and spent.
Isaiah 40:25–31; Psalm 23:1–3; 46; Philippians 2:17; Hebrews 4:15
Total number of pages—55
Soul Care for Women Leaders