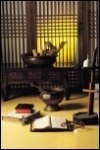 Spirituality For Today
Modern spirituality begins and ends with the self; Christian spirituality, with the Alpha and Omega.
Single Session Bible Study
Overview
Postmodern spirituality is about finding God by journeying into ourselves, but is that the right path for followers of Christ? How should Christians respond to the renewed interest, by both Christians and non-Christians, in the inner world? This study explores the current use of the term spirituality and brings biblical perspective to the pilgrimage.
Table of Contents
LEADER'S GUIDE
• Identify the Current Issue
• Discover the Eternal Principles
—Teaching point one: Christian spirituality is unique.
—Teaching point two: Jesus Christ is central to Christian spirituality.
—Teaching point three: The Holy Spirit is key to Christian spirituality.
—Teaching point four: Christian spirituality involves God's constant presence in our lives.
• Apply Your Findings
HANDOUT FOR FURTHER STUDY
ARTICLE FROM CHRISTIANITY TODAY
• It's Not About Us, by Edith M. Humphrey (April 2, 2001, pp.66-71)
Total number of pages—
Spirituality For Today