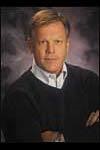 Stowell on Christian Living
Joe Stowell provides insights into living the Christian life in this course from our new Great Bible Teachers series.
5 Session Bible Study
Joseph Stowell, former president of Moody Bible Institute and current pastor of Harvest Bible Church, has written such books as The Trouble with Jesus, Eternity: Reclaiming a Passion for What Endures, and Radical Reliance. In this five-session course, he instructs us in how to be honest with God, how to trust him in times of crisis, how to work together for the sake of the kingdom, and how to show compassion toward sinners.
Session One
Be Honest with God
God searches for people with candid hearts.
2 Chronicles 16:9

If you are relying on one spiritual fix after another to get you through the Christian life, whether that be a book, pastor, experience, or message, your heart is in danger before God.
Session Two
Trust God in Times of Crisis
God tells us to "be still and know that I am" in the middle of crisis.
Psalm 46

Many times our emotional responses drive our actions and reactions. God says that instead we need to respond based on what we know to be true. He calls for a cognitive response based on his character, not our problem.
Session Three
Follow Christ Together
Jesus calls us to lay aside our differences and our distractions as we take up the cross.
Matthew 4:18–22

Jesus called the 12 disciples to a radical new life of following him. They had to give up careers and comforts to follow the road he took them on. But they did it together by focusing on Christ and looking to him for strength.
Session Four
Show Compassion to Sinners
Christ exemplified compassion toward sinful people.
Luke 15

Christians often have a reputation of being angry. Usually this is anger over policies that condone and even embrace sin. But what kind of reputation did Christ have, and what kind of things did he stand for?
Session Five
Trust God When Life Goes Bad
True followers of Jesus will have troubles, and they will endure.
Revelation 2:8–11

Jesus told us that followers wouldn't be treated any differently than their teacher, so we learn by looking at how he responded to the unfairness in his life.
Total number of pages—48
Stowell on Christian Living