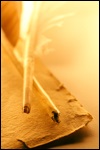 The Gospel Is More Than a Story
Why finding the narrative is only the beginning of Bible study
Single Session Bible Study
Overview
Leslie Leyland Fields has discovered a growth industry over the last several years: "Dozens of authors have called for readers to see the Scriptures as narrative and particularly to read the Bible as a single story. Their books include The Story, The Heart of the Story, The Bible in Brief: The Story from Adam to Armageddon, The True Story of the Whole World: Finding Your Place in the Biblical Drama, The Mission of God: Unlocking the Bible's Grand Narrative, and many others."
What's behind this growing emphasis? What are its strengths and weaknesses? Even more important, is this search for narrative, to put it simply, scriptural?
Table of Contents
SCRIPTURE: Matthew 4:1–11; 5:17–20; Luke 24:13–27; 2 Corinthians 4:1–2; 2 Timothy 3:14–17
LEADER'S GUIDE
• Identify the Current Issue
• Discover the Eternal Principles
—Teaching point one: The Word of God controls our own narratives.
—Teaching point two: Our righteousness is linked to truly following God's Law.
—Teaching point three: Jesus is the focus of the Bible.
—Teaching point four: We must set forth the truth of God's Word plainly.
—Teaching point five: How we handle Scripture has eternal consequences.
• Apply Your Findings
• Additional Resources
ARTICLE FROM CHRISTIANITY TODAY
• "The Gospel is More Than a Story," by Leslie Leyland Fields, July/August 2012
Total number of pages—
The Gospel Is More Than a Story