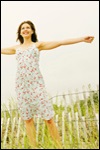 The Opposite of Fear
The Bible gives us an idea of what this is.
Single Session Bible Study
Overview
Doing a web search on the question "What is the opposite of fear– yields some interesting results. Some websites say love, another said happiness. According to the Merriam-Webster Online Thesaurus, some antonyms of fear are: aplomb, assurance, boldness, confidence, selfassurance, self-confidence, courage, dauntlessness, fearlessness, and fortitude. This study will look at the Bible's answer to this question.
Table of Contents
SCRIPTURE: Leviticus 26:6; Psalm 4:8; 27:3; 34:1–11; Proverbs 3:25–26; Isaiah 35; Jeremiah 17:5–8; Malachi 2:5; Mark 4:40; 2 Corinthians 3:4–5
LEADER'S GUIDE
• Identify the Current Issue
• Discover the Eternal Principles
—Teaching point one: Faith, peace, and confidence are the opposite of fear.
—Teaching point two: Trust, boldness, and security are the opposite of fear.
—Teaching point three: Following God wholeheartedly and strength are the opposite of fear.
• Apply Your Findings
Total number of pages—
The Opposite of Fear
SmallGroups.com offers a diverse set of adaptable training tools for small group models that can be customized to a church's unique needs.
14-Day Free Trial
Get complete access free for 14 days.
Featured Training Tools:

Connect People into Small Groups
A la carte price:
Theological Discussions for Everyone
A la carte price: