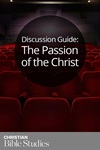 The Passion of the Christ
A wrenching portrayal of the brutality of Christ's crucifixion.
Single Session Bible Study
Overview
Easter is the most significant holiday on the Christian calendar. For those who claim Christ as Savior and Lord, it marks the day on which the major event of our faith took place. Without the resurrection, our faith would be in vain. Yet before Christ experienced the victory over death that gives us new, eternal life, he experienced the brutality of crucifixion. The days of his arrest, trial, death by crucifixion, and triumphant resurrection are depicted in The Passion of the Christ, directed by Mel Gibson.
Use this discussion guide to look more deeply at the themes of this movie. With which characters do you most readily identify, and what can you learn about your faith by exploring that identification? Who was Jesus, and why does his identity matter? What roles do fear and power play in this story, and what does it mean to carry a cross?
Discussion Guide
• Movie Summary
• Discussing the Scenes
—Finding Yourself in the Story
(John 18:1–11; Romans 5:12–19)
—Who is Jesus
(Matthew 16:13–18)
—Fear and Power
(Matthew 26:47–54; Mark 14:51)
—Carrying the Cross
(Mark 9:41; Luke 22:20; John 15:18–21)
• As the Credits Roll
Based On
The Passion of the Christ (Icon Productions/Twentieth Century Fox, 2004), directed by Mel Gibson, rated R.
Photo © Copyright Icon Productions/Twentieth Century Fox
Total number of pages—
The Passion of the Christ