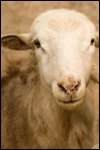 The Sin Offering: Cleansing Ourselves
Staying right with God.
Single Session Bible Study
Overview
This study examines the sin offering, which—along with the guilt offering—is often seen as prophetic of the role of Christ as the redeemer of sin. We will examine the ways in which sin was viewed differently in the Old Testament, and also the ways in which the Old Testament is similar to the Christian view. We will see how the sin offering sets a standard for our lives today.
Table of Contents
SCRIPTURE: Leviticus 4
LEADER'S GUIDE
• Identify the Current Issue
• Discover the Eternal Principles
—Teaching point one: Obedience does not make us righteous—erring on the side of legalism.
—Teaching point two: Our hearts do not make us righteous—erring on the side of emotion.
—Teaching point three: The righteousness of Christ—how Jesus redefined sin.
• Apply Your Findings
• Recommended Resources
Total number of pages—
The Sin Offering: Cleansing Ourselves