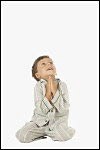 Teach Children to Pray
This could be the most important skill we pass on to our children.
Single Session Bible Study
Overview
Most people remember their first prayer, whether it was "God is great, God is good, and we thank him for our food" or the classic nighttime prayer, "Now I lay me down to sleep." But prayer is more than simply saying some words over and over; prayer is communicating with the Maker of the Universe. Prayer is pouring our hearts out to the one who created us and petitioning him on behalf of others.
Teaching our children to pray is an awesome responsibility. What is the first thing a child needs to know about prayer? What does Jesus say about prayer? What can we teach children about the times God says no? These are some of the questions we will look at in this study.
Table of Contents
SCRIPTURE: 1 Samuel 12:23; Psalm 84:11–12; Matthew 5:43–44; John 11:32–44; 15:1–7; James 5:16
LEADER'S GUIDE
• Identify the Current Issue
• Discover the Eternal Principles
—Teaching point one: Children discover what God is like through prayer.
—Teaching point two: Children need to know that God hears every prayer.
—Teaching point three: Children learn to focus on others through prayer.
—Teaching point four: Children grow in their faith when they see how God answers their prayers.
• Apply Your Findings
• Additional Resources
ARTICLE FROM CHRISTIAN PARENTING TODAY
• Let the Children Pray, by Esther Ilnisky (July/August 2001, 3 printed pages)
Total number of pages—
Teach Children to Pray