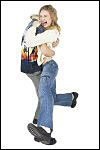 Teens & Sex—A Discussion for Teens
This five-session course provides a discussion for teens about sex.
5 Session Bible Study
It seems few topics are more interesting than sex. Find out through God's Word the marvel of this wonderful creation of his and how he wants us to use it. This five-session course will help you understand the importance of this topic. Not only does it discuss sex, but also your relationship with your parents and how to gain confidence. There is also a companion course for parents.
Session One
Help Your Parents to Trust You
How you handle the freedom you have often determines the freedom you'll get.
Deuteronomy 6:13–19; Philippians 2:1–11; 2 Timothy 3:10–15

Maybe you are starting to feel that you are an adult, but your parents don't see it that way. The good news is that you can begin to help them to trust you.
Session Two
Christian Teens and Sex
How can we deal with the temptations of sex?
John 8:3–11; 1 Corinthians 6:13b, 18–20; 10:13; Galatians 5:22–25

As much as we would like to believe that Christian teens are immune to sexual pressure, the evidence suggests that simply isn't true. So let's talk about how to "Just Say No" when sexual temptation calls.
Session Three
Sex Excess
Our society's obsession with sexuality may be a thirst only God can quench.
2 Samuel 11:2–4; 12:9, 13; 1 Kings 11:1–4; Psalm 51:1–10

Sex appears to be everywhere we look. Ads constantly bombard us with the notion that we will be irresistible if we purchase the product being promoted. But are our sexual desires a thirst that can be quenched only by Jesus?
Session Four
Too Intimate Too Soon
Most people's obsession with sex is actually a search for intimacy.
Mark 10:2–9; 1 Corinthians 7:2–7, 10–16; 10:16–17; 13; Ephesians 5:21–33

Most people have a desire for intimacy, yet the divorce rate alone shows that intimacy is not easy for adults. How has today's sexual ethic affected teenagers? And how can the church counteract these effects?
Session Five
Become Self-Confident
Move from being self-focused to being God-focused.
Luke 11:1–13; Acts 2:41–47; Philippians 2:3–11

Our culture has perfected the put-down. This study will explore how God builds us up instead of putting us down.
Total number of pages—28
Teens & Sex—A Discussion for Teens