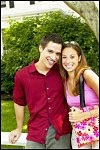 Too Intimate Too Soon
How has today's sexual ethic affected teenagers?
Single Session Bible Study
Overview
Most people have a desire for intimacy, yet the divorce rate alone shows that intimacy is not easy for adults. But how has today's sexual ethic affected teenagers—those who are not yet ready for sexual intimacy? And how can the church counteract these effects?
Table of Contents
SCRIPTURE: Deuteronomy 6:6–9; Proverbs 22:6; Matthew 18:2–6; Mark 10:2–9; 1 Corinthians 7:2–7, 10–16; 10:16–17; 13; Ephesians 5:21–33; 6:4; Philippians 2:1–13; 1 John 4:7–13
LEADER'S GUIDE
• The Issue
Sample questions:
In what ways has our adult society tricked teenagers into believing that sex will not have any significant impact on their lives?
What aspects of sex and marriage have Christians communicated to their teenagers? What have we failed to communicate?
• The Scriptures
Sample Scriptures:
1 John 4:7–13: What are the characteristics of true Christian love?
Deuteronomy 6:6–9: What responsibilities do we have for the development of our children?
• The Application
Sample application questions:
What is involved in emotional intimacy? Might a person seeking intimacy through sexual experiences actually be trying to meet emotional needs?
What attitude toward sex are you communicating to your children and to others around you? Can your children approach you with their questions and problems?
• Recommended Resources
ARTICLE FROM CHRISTIANITY TODAY
• Intimacy: Our Latest Sexual Fantasy, by Tim Stafford (January 1987, 13 printed pages)
Total number of pages—
Too Intimate Too Soon